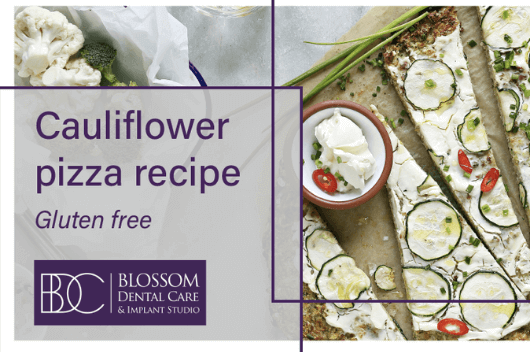 14th August 2020
Tooth-friendly recipe: cauliflower pizza
Today we share another tooth-friendly recipe – cauliflower pizza. One of our team members is a celiac, so one of the biggest challenges to her diet is finding alternatives for 'takeaway' style foods as most of these contain wheat and gluten.
This pizza recipe is quick and easy but also a healthy alternative, especially for people that may have over indulged over the lockdown period and are wanting to cut out carbs.
You can eat it guilt-free because you know exactly what ingredients are being used, and to top it off, it's also sugar-free (takeaway pizza can contain around 6 teaspoons of sugar)!
Read the full recipe below.
Makes 2 servings.
Time: preparation is 20 minutes. Cooking is 35 minutes.
INGREDIENTS
Non-stick spray
450 grams of cauliflower, grated (about 1/2 a large head)
1 large egg, lightly beaten
300 grams of shredded reduced fat mozzarella cheese
2 tablespoons of grated parmesan cheese
Kosher salt and freshly ground black pepper
60 grams of tomato sauce
230 grams of grape tomatoes, sliced in half
2 garlic cloves, sliced
1/4 teaspoon of crushed red pepper flakes
Fresh basil leaves, optional
METHOD
Line a rimmed baking sheet with parchment paper, and preheat oven to 230ºC.
Grate the cauliflower using a box grater until you have about 450 grams of cauliflower crumbles. Place in a large bowl and microwave for seven to eight minutes, or until soft. Remove from the microwave and let cool.
Mix in the egg, 240 grams mozzarella, parmesan cheese, salt and pepper.
Once combined, pat into a 25-centimetre round prepared pizza pan. Spray lightly with non-stick spray and bake for 10 to 15 minutes, or until golden.
Top the pizza with the sauce, 60 grams mozzarella, grape tomatoes, garlic, and red pepper flakes. Bake in the oven until melted and bubbly, another 10 minutes.
Top with basil before serving.
Looking for more tooth-friendly recipes? Find out how to make carrot falafel.