Tooth-friendly recipe: Carrot Falafel
The foods we eat have an impact on our teeth. Today we share a tooth-friendly recipe from our Senior Dental Therapist, Teresa, for you to enjoy at home or on-the-go.
Made with fresh ingredients, and ideal for wraps and salads, this carrot falafel has no artificial sugars and is high in fibre and vitamin A. Using raw carrots in the accompanying wrap or salad can increase saliva, which helps reduce tooth decay by maintaining the pH level of the mouth and rinsing away food particles.
You can also add cheese to the salad or wrap, which helps promote strong teeth as it is high in calcium and proteins. Calcium and phosphorus found in cheese also helps to maintain the pH level of the mouth, which in turn helps prevent demineralisation of the teeth. The fat in cheese also reduces the amount of harmful bacteria in the oral cavity.
Read the full recipe below.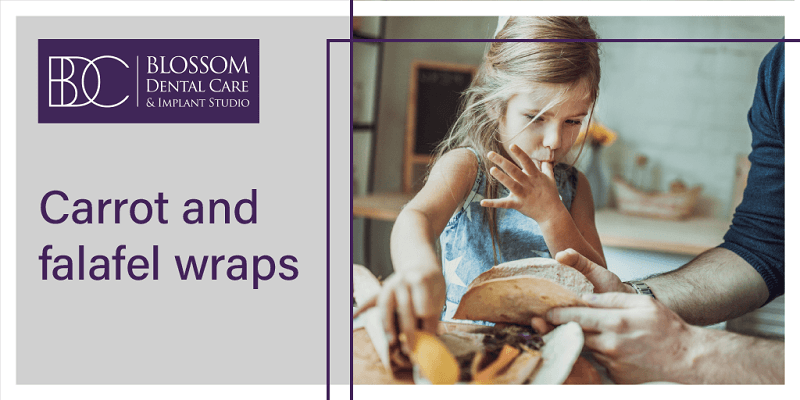 Ingredients:
Carrot falafel:
1x tin chickpeas, drained
100g carrots, peeled and grated
2-3 roast garlic cloves, can be used raw
1tsp ground cumin
1tsp salt
1/2 tsp ground coriander
1 handful fresh coriander
Sesame seeds to coat (optional)
Method:

1) Place all ingredients except sesame seeds into a food processor and whizz to a rough paste. Scoop into a bowl.
2) Scoop large tbsp into balls and roll in sesame seeds, if using.
3) Place on a lined baking tray and chill for 30 min. If you are not using straight away you can freeze them in an air tight container for up to 3 months.
4) Bake for 20min on 180C. They should be crisp on the outside and soft in the middle. Serve with a salad or in a wrap with hummus, grated carrot, tomatoes, capers, pepper, cheese and sundried tomato balsamic vinegar.
5) Enjoy!