Do I Qualify For Invisalign?
As a reputable and long-standing dentist here in York, we offer our patients the latest advancements in dental care, and Invisalign teeth straightening treatment is no different. While many have heard of Invisalign – it's enjoyed media coverage, celebrity endorsement and helped millions around the world – we know that our patients often ask whether it's suitable for them, and have questions about how the treatment works. We'll cover all of this, and more, in today's post.
What is Invisalign?
Invisalign is a clear brace treatment that straightens teeth incrementally. It works by wearing a plastic aligner over your teeth for 20-22 hours per day. Every few weeks, you'll change to a new aligner, with a slightly different positioning, to continue to gradually straighten your smile.
Who is eligible for Invisalign?
This top teeth straightening treatment is available to both teenagers and adults, here at our York dentists. Most people are suitable, providing your mouth, teeth and gums are healthy, however, a consultation ensures this is the case, as a dentist will take the time to check your smile, carry out any photographs or X-rays needed, and look over your dental history.
How soon can I start treatment?
After your Invisalign consultation, and assuming you're mentally fit, we'll arrange an appointment at our state-of-the-art studio. This is where we take scans of your teeth and create a treatment plan tailored to you. You'll be able to see the stages of your treatment, preview your predicted results, and even have an idea of how many Invisalign clear braces you'll need to wear – and when to change them.
Does Invisalign work on crooked teeth?
Yes, there are lots of treatable cases, including:

– Crookedness – twisted, overlapping or sticking-out teeth
– Overbite – overhanging top teeth
– Underbite – jutting-out bottom teeth
– Crossbite – a combination of overbite and underbite
– Open bite – teeth that don't meet when closed
– Spacing problems – gappy or crowded teeth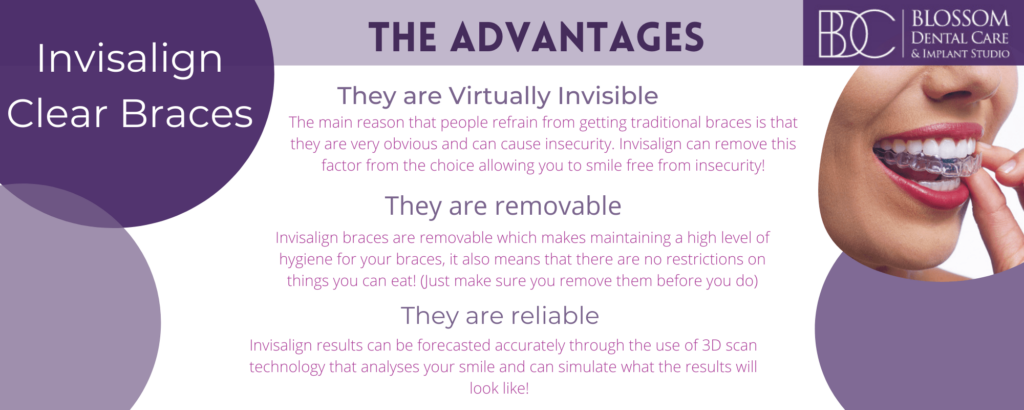 What happens if I don't have treatment?
Teeth straightening is about more than a cosmetic enhancement. It's well-documented that bite problems can lead to issues with speech, eating and chewing, as well as tooth wear and pain in areas of the face, such as the forehead or jaw. Gaps and crowding can both contribute to oral health problems, as food and bacteria can collect in the nooks and crannies of crowded teeth, which can be difficult to clean, while gaps can leave the gums exposed, and more susceptible to problems such as gingivitis (gum disease).
How do I book my clear brace treatment?
Simply give us a call or ping us an email, and we'll arrange a consultation at our York dentists.