Missing Teeth? No Problem, Here Are Your Options:
Missing teeth are nothing to be ashamed of. There are many reasons why people might have teeth missing, from medical issues to injury, as well as poor oral care. If you have missing teeth, it's important to focus on the future. With our talented team of York dentists, our top-of-the-range equipment and our best-in-class treatments, we can help get your smile back on track. So if you're missing teeth, no problem: we've got the solutions.
Dental Implants
One of our most highly rated treatments for tooth loss is this clever, permanent solution. Dental implants look and behave like your natural teeth, but are in fact made of a metal root and a porcelain crown (similar to other dental crowns). The root is inserted into your mouth under local anaesthetic in a quick and simple procedure. Then, a temporary crown is worn until everything's healed up and your permanent crown can be fitted.
Dental implants are highly successful too, with something like 90-95% of cases seeing long-term results and benefits. They can replace single, multiple or all teeth.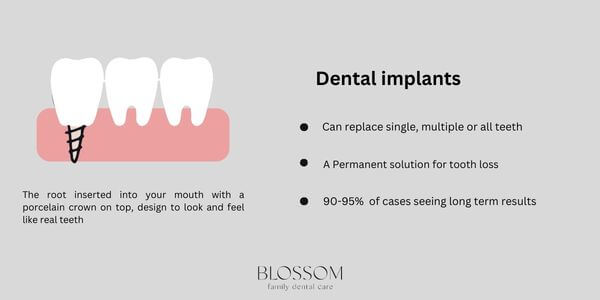 Dentures
This is a solution that might work out more cheaply for your budget and is typically more well-known among our York patients. Dentures are false teeth that are moulded to perfectly fit your mouth and can be removed at any time. They usually stay in place with special denture adhesive and can be cleaned with denture cleaner.
Dental implants can replace all missing teeth, so if you have one row (or both) needing to be replaced, you could consider this as an alternative to dentures. In these cases, metal roots are implanted around the mouth to act as anchor points. These attach to a fitting instead of a crown, so a whole set of teeth can be worn.
Bridges
A dental bridge uses either the natural teeth or dental implant anchors to suspend one or more teeth. While typical dental bridges don't require any surgery, you will need to have a minimally-invasive procedure to place dental implant anchor points in your mouth. Both can feel more secure than dentures, however, they can be more expensive. In addition, bridges placed over natural teeth require some preparation of the smile to ensure the right fit.
Finding a solution that works for you
Our York dentists look at each patient as an individual, and will always make personal recommendations about your care. To see what we could do to correct your tooth loss, get in touch with our dental practice today.