Invisalign For Teenagers
At Blossom Dental private dentist in York, we're always on the lookout for innovative technology and treatments that can help our patients – especially if it's for transforming their smiles. After all, your smile is what gives you confidence and helps you feel more like yourself. That's why one of our recommended treatments for teens with problem teeth – from bite problems to overcrowding, to gaps – is Invisalign braces.
In this post, we'll go over the reasons why we love these groundbreaking teeth straightening treatments. Whether you're tempted to book in with us already, or you're unsure whether Invisalign is right for your teen, we're here to help you make that decision.
A confident new smile
We all remember what it's like to be a teen – and how even the smallest thing can knock your confidence. The teens today are the adults of tomorrow, so it makes sense to build up that confidence as much as possible, helping them be happier and reach their potential in life and their studies.
Invisalign is a great tooth straightening option for those who hate the unsightly image of traditional braces, where visible brackets and wires are always on show. These clear braces are a fantastic alternative and sit snugly and discreetly over teeth, rendering the braces almost invisible.
The clear brace treatment you can trust
One huge benefit to Invisalign braces is that you can take them in and out. But to ensure teens are wearing them as they should, they also feature a small coloured dot indicator, helping you track their wear. It's also worth noting that Invisalign is much more comfortable than other types of braces, and as the trays are replaced every few weeks to track changes with teeth, they can also compensate for teeth that are yet to come through.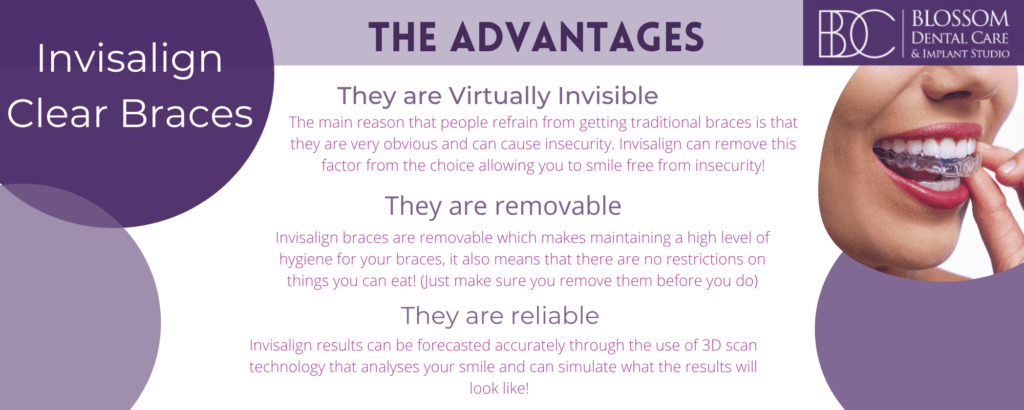 Ready to enjoy
There's so much to love about the fantastic clear braces. Teens will be able to eat, smile and talk with confidence, and can remove them at mealtimes and for brushing. Invisalign is also super easy to keep clean. And, on top of all that, we offer 0% finance, plus a free consultation, giving you excellent value for money and a great way to budget.
Why choose us?
We're proud of our wonderful staff, welcoming clinic and professional care and we're certain you will be, too. We're York's leading dental practice – cemented by the fact we've won numerous awards in the field of dentistry. We're also grateful for our amazing patients, who regularly review their treatment with us. If you want a treatment that's tailored to you, why go anywhere else!
How to book
Now that you and your teen are ready to book an appointment, why not choose Blossom Dental for your private dentist? All you need to do to get started is fill out a contact form – and we'll do the rest!