The benefits of an NHS dentist over a private dentist.
You've probably seen plenty of adverts in York for private dental services. If you're wondering why you don't see adverts for the NHS, it's because an NHS dentist doesn't need to spend so much money on marketing. UK citizens have a very good idea of the high quality of treatment they can get at the reduced NHS price and they're pleased to have this service.
During every general election, the security of the future of the NHS is considered a deciding factor for many voters, which tells you a lot about how much the British nation values its health service. Why then, do so many people overlook the benefits an NHS dentist can provide? There's no difference in the quality of treatment a dentist provides to his or her NHS and private customers!
NHS dentist treatments
NHS dentists have a commitment to their patients to keep their teeth and gums healthy. If you are an NHS patient, you will see your dentist every six months to a year for a dental check up and clean to ensure you're not harbouring any tooth decay, or that you're not suffering from gum disease.
Should you need a filling or more advanced treatment, you will then be called back for further appointments. Even some braces are available on the NHS. All of this will be heavily subsidised thanks to your monthly national insurance contribution.
Private dental care
Private dental clinics are great for providing luxury cosmetic treatment. Want your fillings to be colour-matched to your existing teeth? Want your orthodontic tooth straightening treatment to be ultra discreet? A private dentist can provide you with the option of choosing that. Implants or artificial teeth, which can be inserted into the jawbone, do the same job as traditional dentures, but at a fraction of the price.
As a British taxpayer, you are fortunate to have access to a health care system that provides you with the same quality of care as private dental treatment, but at a far reduced cost. Blossom Dental offers you the best of both worlds; exceptional NHS family dentistry, with the option to pay extra for luxury treatments.
If you want more refined, natural-looking fillings, implants or discreet braces, we'll simply charge you extra. What we're not going to do is charge you extra for a service that is your right as a British citizen. We are open to new NHS patients. We are highly trained and experienced dentists who afford the same level of care and support to NHS and private customers.
NHS check-ups for the rest of your life will keep your teeth healthy and prevent you from brewing up dental problems in the future. If you'd like to join our practice, please give our friendly team a call to make your first appointment.
Click here to see our NHS Dental Overview!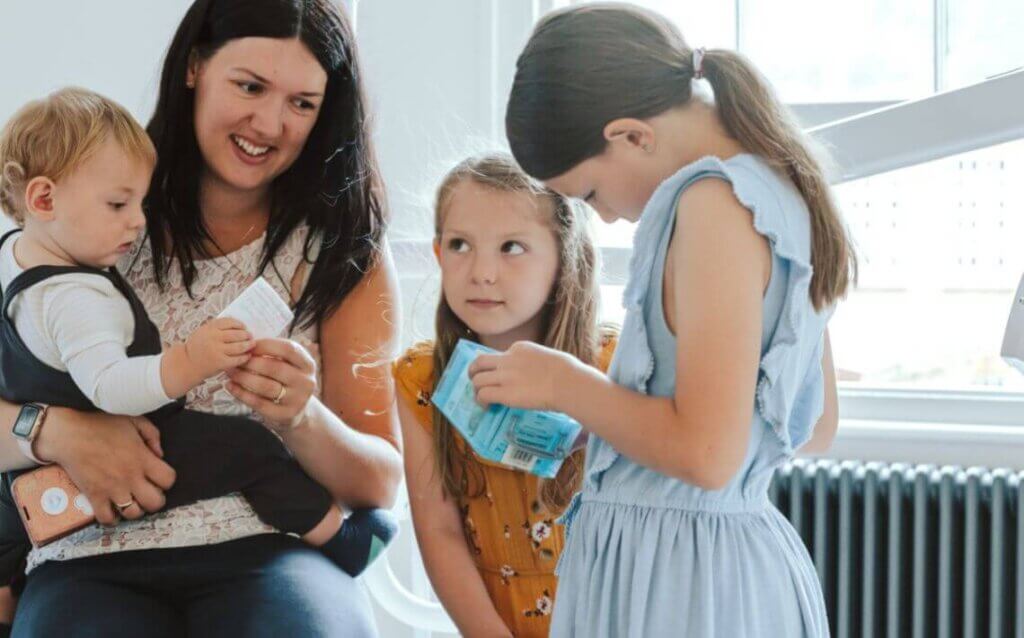 NHS Services at Blossom Dental:
At Blossom Dental, we are proud to be an NHS dental practice, offering a range of services to meet the diverse needs of our patients. Our commitment to providing high-quality care while adhering to NHS standards sets us apart. Whether you require a regular check-up, preventive care, or specific treatments, our experienced and friendly team is here for you.
Comprehensive Dental Care:
We believe in a comprehensive approach to dental health. Our services include:
Routine Check-ups: Regular dental check-ups are essential for maintaining optimal oral health. Our skilled dentists conduct thorough examinations to detect and address any potential issues early on.

Hygiene Services: Professional cleaning and hygiene services help prevent gum disease and maintain a healthy smile.

Restorative Treatments: Should you require restorative treatments such as fillings, our team is equipped with the latest technology to ensure efficient and effective care.

Emergency Dental Care: Dental emergencies can happen at any time. Our practice provides prompt and compassionate care for those unexpected situations.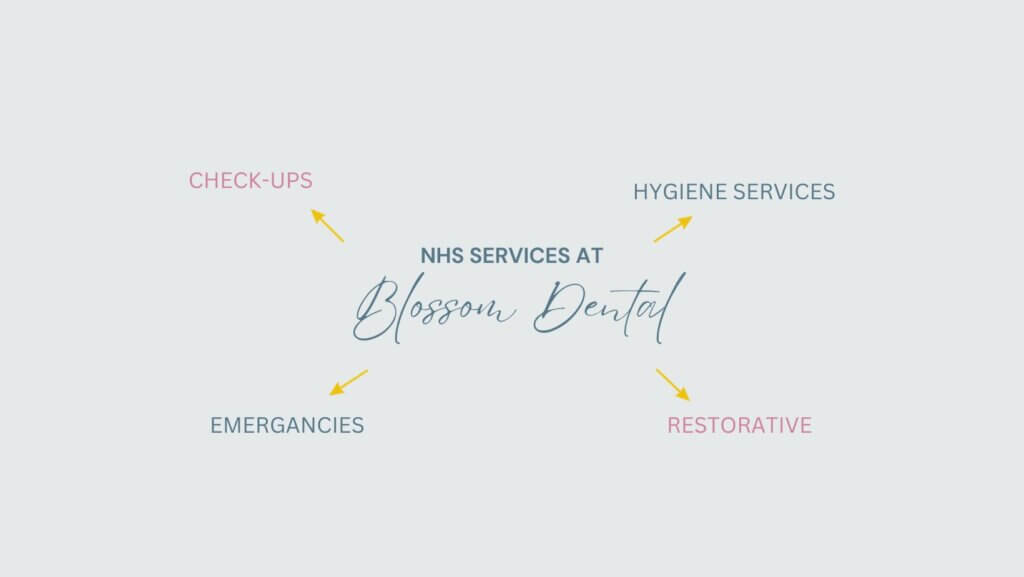 Community Engagement:
Being an integral part of the York community, we actively engage in initiatives that promote oral health awareness. From educational workshops to partnerships with local schools, we are dedicated to fostering a culture of proactive dental care within the community.
Patient-Centered Approach:
At Blossom Dental Care in York, our patients are at the heart of everything we do. We prioritise open communication, ensuring that you fully understand your treatment options and feel comfortable throughout your dental journey. Our friendly staff is always ready to address any questions or concerns you may have.